CAMBRIDGE PROGRAMME FOR PRIMARY SCHOOL STUDENTS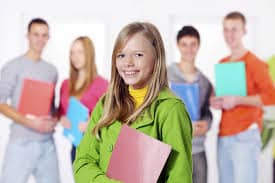 For the first time ever, students in Serbia attending their final 3 years of primary school (Year 7, 8 and 9) will be able to complete a unique Cambridge programme despite still being in primary school! The Cambridge Mathematics-English-Science programme or Cambridge M-E-S for short, offered by Savremena International School was especially created for students who wish to attain Cambridge qualifications in primary school and prepare themselves to enrol into secondary education, particularly Savremena's Cambridge programme.
In addition to their regular classes at primary school, students will attend the Cambridge programme at Savremena International School appropriate for their age.
English-mediated lessons
As part of the Cambridge M-E-S programme students will take 3 subjects - maths, English and science, whereby science covers biology, chemistry and physics. These subjects follow the Secondary 1 curriculum set by the prestigious University of Cambridge. Students will be able to attend lessons in the given subjects twice a week, in the evening hours or at weekends. We have set up such a timetable so as not to interfere with their other academic obligations.
In order to prepare students for the Cambridge programme, which at Savremena International School is conducted entirely in English, the language of instruction within the Cambridge M-E-S programme is also English.
Find out more about the Secondary 1 programme in this Cambridge brochure »
In world-class company
At the end of each school year, students complete a progression test in the subjects they attended which gives them, along with their parents and teachers an opportunity to monitor their achievements in chosen fields. Their demonstrated knowledge will be evaluated by Cambridge-certified teachers who are all experts in the subjects they teach. Given that all scores are entered into a unique Cambridge database, in addition to comparing them amongst each other, our students will be able to match their test results against those of their peers from all over the world.
At the end of primary school, students will take the so-called Cambridge Checkpoint exam for each subject they attended. These exams will be marked by actual Cambridge examiners. Students are then awarded certificates to validate their achievements and to confirm that they have successfully completed the programme. In addition, they receive a progression report and a recommendation or prediction for their academic future.
Ready for secondary education
We are sure that the predictions will be more than promising, especially upon completing this unique programme. Students who graduate from it will be more than prepared to continue their education at our incomparably modern Cambridge secondary school or anywhere else in the world for that matter.
The most important thing is to start on time and that means to start early!